Richard Topping (born August 19, 1967) provides the voice for Daniel in Amnesia: The Dark Descent.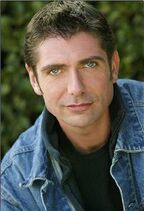 He started his career as a bar manager at the Beacon Hotel, Tunbridge Wells, and then went on-stage as a stand-up comedian on the London club circuit in the late 1980s.
Television
Edit
He moved into television in the 1990s, co-hosting several shows including BBC's This Multimedia Business, The Technophobe's Guide To The Future and ITV's The Web Review. He moved to British Sky Broadcasting Sky Television's computer channel .tv as host of Masterclass, which ran for over 500 episodes, and was a regular guest presenter on Chips with Everything, Blue Chip and Buyer's Guide.
Topping is also the author of several books on television and film including Kevin and Perry, Monty Python: A Celebration and Kenny and Me, the Ghostwriter of actress Cleo Rocos. His first children's book, Magical Uncle Urlich was published by m2f Books in 2005.
After moving to USA
Edit
In 2001, Topping moved to the United States (where his wife is from) to pursue a career in acting. Recent films include Lie Detector (for release 2008), Come Hell or Highwater (for release 2008) and The Astonished Man (for release 2008).
He has worked in Portland as a special effects producer for a show called "Grimm" before starring in Amnesia. After getting back from vacation, Richard came to a dire situation at his producer job, which prompted him to leave the job and finish college, presumably at Portland State University (PSU). He also continued his acting career in a sound studio and took other freelance acting jobs.
Topping appeared as "Jack" in an advertisement video for a trading bot scam called "Greenwood Formula"[1]. He wasn't involved in the scam itself, but he was blamed for it as he was used as the operation's face. He was contacted by law enforcement and issued an apology for the affected people, despite only being an actor affected by the actions of the scammers.
As of 2018, Topping works as a physics and chemistry teacher in Portland, Oregon.
Amnesia: The Dark Descent
Edit
In 2018 Topping answered questions about his involvement with Amnesia: The Dark Descent as well as his teaching and the Greenwood Formula scam in a Discord interview. The interview can be found on YouTube[2].
Richard was surprised about Amnesia's sudden success. He worked in a sound studio and didn't have much connection to the project itself, as the casting was quite impersonal - it was handled by an online system.
Topping wasn't allowed to read the full script, which he mentions positively affecting his performance as an amnesiac.
He mentions playing the game demo, and not feeling comfortable with listening to his voiceovers. He says that the game is quite macabre but felt very original to him.
References
Edit
Community content is available under
CC-BY-SA
unless otherwise noted.