| | |
| --- | --- |
| | "Do you see this page, Weyer? It deserves so much more!" |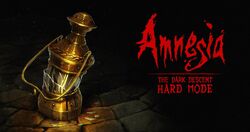 Hard Mode is one of two gameplay modes for Amnesia: The Dark Descent, (the other being normal mode) and the same game as part of Amnesia: Collection for the Xbox One, PlayStation 4, and Nintendo Switch.
Hard Mode was announced by Frictional Games to be released with the Xbox One edition of Amnesia: Collection on September 21st, 2018. It was released for Xbox One and PC on September 28th, 2018; however a bug in the PC version forced Frictional Games to remove the feature, which was re-added on October 2nd, 2018. After some delays, it was also released for the PlayStation 4 version of Amnesia: Collection on March 22, 2019.
Far more difficult than normal mode, Hard Mode has the following differences:
Autosaves are disabled, and manual saving costs 4 tinderboxes.
Sanity dropping to zero results in death.
The amount of oil and tinderboxes throughout the levels has been drastically reduced.
Monsters are faster, spot the player more easily, deal more damage and stay around for longer.
There is no danger music when the monsters are near (though the monsters themselves still make audible noises).
The amount of tinderboxes that spawn and the locations where they spawn appear to be random, however it appears to usually be around 20-30 tinderboxes that spawn throughout the game.
Beating Hard Mode will unlock the "Masochist" achievement. However, this mode affects the "Illuminatus" achievement, which cannot be earned during gameplay in Hard Mode as the mode reduces the amount of tinderboxes throughout the level.
Community content is available under
CC-BY-SA
unless otherwise noted.