"Don't want any of the guests coming in here."
Amnesia: Rebirth/Version history is underlinked. Please help
improve this article
by adding
links
that are relevant to the context within the existing text.
This notice was added on:
November 2020
This is a list of update patches which have been released for Amnesia: Rebirth. The patches may introduce new features or content, optimizations, bug-fixes, etc. The player must download the latest patch before playing the game.
All Platforms
[
]
Patch 1.04 - October 23, 2020
[
]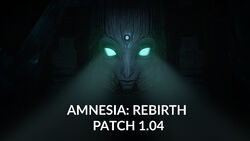 Tone down of Fear Flashes.
Fixed several blockers.
Potential fix for GUI missing.
Various fixes.
Patch 1.0 - October 20, 2020
[
]
PC
[
]
Adventure Mode – March 30, 2021
[
]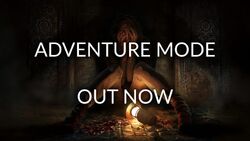 Adds a new mode, "

Adventure Mode

", that allows players to experience the game with reduced scares

Monsters still exist in the game, but they won't attack you anymore.
Locations that contained pitch black darkness have been brightened up a lot, making environments possible to explore at one's own pace, allowing for easier navigation and removes some of the oppressive atmosphere.
No active fear mechanic, meaning that you don't have to worry about taking fear from being in darker areas or near monsters.
A few bonus puzzles.
Patch 1.23 – February 18, 2021
[
]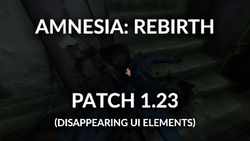 Patch 1.2 – November 6, 2020
[
]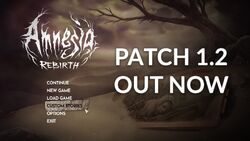 Custom Stories

can now be selected from the main menu.
The editors used in the development of Amnesia: Rebirth have been added to the install directory of the game.
Fear is no longer increased while reading notes.
Disabling Video Distortion now disables the pulsing tilt and zoom effect while standing in darkness.
Inventory can now be opened with D-Pad Up on gamepads that don't have a View/Back button.
Fixed a major bug where the game would be stuck on a black screen after the intro.
Fixed a bug where the game would not progress after a major late-game cutscene.
Fixed a bug where some memories could not be replayed from the sketchbook.
Fixed a bug where some objects wouldn't play sounds while being dragged across the floor.
Various other bugfixes.
Patch 1.1 - October 29, 2020
[
]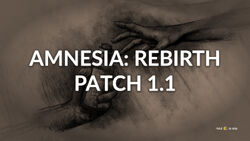 Skip memories by holding down the interact button.
Linux graphics glitch fixed.
Various blockers and bugs fixed.
PlayStation 4
[
]
??? - April 29, 2021
[
]
Adventure Mode

is available in the PlayStation 4 version.
PlayStation 5 upgrade for the PS4 version of Amnesia: Rebirth that increases performance to 60 frames per second.