Do you see this page, Weyer? It deserves so much more!

This article is a stub. You can help Amnesia Wiki by expanding it.
Amnesia: Collection is a collection consisting of Amnesia: The Dark Descent, Amnesia: Justine, and Amnesia: A Machine for Pigs. It was released on November 22, 2016 for the PlayStation 4.
The collection was first announced for PS4 by Frictional Games on October 19th, 2016, with a very unique trailer consisting entirely of footage taken from early YouTube "Let's Plays" of Amnesia: The Dark Descent. The Frictional Games team later clarified a few things about the collection in a blog post on their website on October 21st.
The release brought a few new features to the game, most notably the addition of trophies to all three games. These were later added as Achievements in a patch to the Steam release of the game, and was also added to the Xbox One edition after its release.
On August 27, 2018, Frictional Games teased on Twitter that the collection would be released on Xbox One in the near future, mentioning that more information regarding this would be released on September 7th. Microsoft released a news update on August 25th with a preliminary release date set at August 31st, however this was later removed with a notice citing more information to be available regarding the release shortly.
On September 7th, 2018, Frictional Games announced that the Xbox One release of Amnesia: Collection would be delayed due to "technical issues". A couple of weeks later, on September 21st, Frictional announed that the Xbox One edition of the game would be released on September 28th, and that it would feature a Hard Mode for Amnesia: The Dark Descent, which would make the game harder for experienced players by decreasing the amount of Items from the game, making enemies deal more damage and spot the player more easily, disabling the autosave feature, among other things. It was released for Xbox One on September 28th, 2018.
The collection was also released for Nintendo Switch with a release trailer, on September 12th, 2019.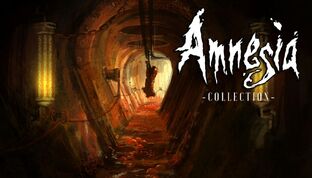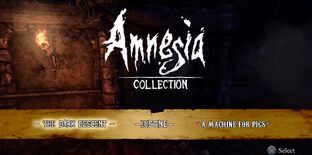 Community content is available under
CC-BY-SA
unless otherwise noted.